Party Food to Go
HORS D'OEUVRES BY THE DOZEN
Minimum of 3 Dozen of Each Kind. 72 Hours Notice, Please. Prices are per dozen.

Ready to Serve, No Reheating Required
*SMOKED SCOTTISH SALMON & BOURSIN TOASTS-Per Dozen $20.00
*ASSORTED JAPANESE SUSHI (24-48 hr Notice) with Soy Sauce, Wasabi and Pickled Ginger-Per Dozen  $24.00
JUMBO SHRIMP WITH GINGER RUM SAUCE *Gluten Free* -Per Dozen  $29.00
*CHILLED JUMBO SHRIMP with Parslied Lemon Cocktail Sauce *Gluten Free*-Per Dozen  $29.00
*TAMARI LIME JUMBO SHRIMP Garnished with Toasted Sesame Seeds *Gluten Free*-Per Dozen  $29.00
*SEARED SPICY AHI TUNA AND FRESH MANGO BITES with Citrus Aioli *Gluten Free* -Per Dozen  $28.00
ENGLISH CUCUMBER CUPS *Gluten Free*
*with Maine Lobster Salad-Per Dozen $28.00
*with Smoked Salmon-Per Dozen $22.00
PETIT FILET & ROASTED RED PEPPERS with Roasted Red Pepper Aioli on the Side *Gluten Free*-Per Dozen $29.00
*BEEF TENDERLOIN AND SCALLION SATAY SKEWERS-Per Dozen  $27.00
SLICED TENDERLOIN ON HORSERADISH CROSTINI-Per Dozen  $28.00
BABY LAMB CHOPS WITH A ROSEMARY CRACKED PEPPER CRUST *Gluten Free* -Per Dozen (market price)
APRICOT,  CHEVRE & IMPORTED PROSCIUTTO ROULADES *Gluten Free*-Per Dozen  $18.00
BUFFALO CHICKEN TENDERS WITH CREAMY BLEU CHEESE DIP-Per Dozen $18.00
THAI PEANUT CHICKEN SATAY SKEWERS-Per Dozen $18.00
BASIL MARINATED MOZZARELLA AND SWEET GRAPE TOMATO SKEWERS *Gluten Free* -Per Dozen  $18.00
HONEY PECAN BRIE BITES *Gluten Free*-Per Dozen  $22.00
PAPRIKA DUSTED DEVILED EGGS *Gluten Free*-Per Dozen  $18.00
with Black Caviar *Gluten Free*-Per Dozen $26.00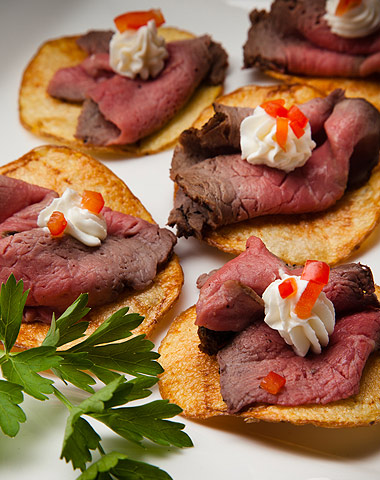 Ready to Re-warm
FRESH HERB, DRIED CRANBERRY, OR PESTO BRIE TARTLETS  $16.00
MUSHROOM CAPS with Sauteed Spinach, Feta & Toasted Walnuts  $15.00
MINI POTATO-SCALLION KNISHES with Hot & Spicy Mustard  $16.00
VEGGIE, PULLED PORK OR CHICKEN QUESADILLAS  $15.00
VEGETARIAN OR PORK AND SHRIMP SPRING ROLLS  $20.00
CRISPY SWEET POTATO PANCAKES with Gingered Sour Cream  $15.00
MARYLAND STYLE CRAB CAKES with Dilled Remoulade  $20.00
SAUTEED LOBSTER & SCALLION IN PHYLLO  $26.00
HOISIN GLAZED SCALLOPS EN BROCHETTE with Wasabi Cream  $26.00
PAN FRIED VEGETARIAN OR PORK ORIENTAL DUMPLINGS with Soy Scallion Sauce  $22.00
THAI CHICKEN SATE WITH SPICY PEANUT SAUCE
(may be served room temperature)  $17.00
GLAZED HONEY MUSTARD CHICKEN  $17.00
MINIATURE BEEF WELLINGTON with Reduced Port Wine Sauce  $24.00
PETITE CHICKEN CORDON BLEU  $16.00
ROSEMARY-DIJON CRUSTED BABY NEW ZEALAND LAMB CHOPS  market price
SPANAKOPITA TRIANGLES  $18.00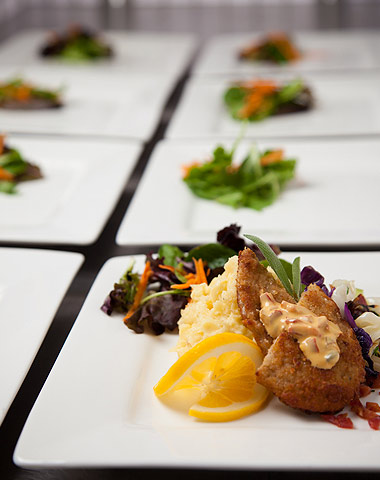 Stationary Arrangements
Priced per person-unless noted (10 person minimum)
MULTI LAYERED MEXICAN FIESTA DIP with White Corn Tortilla Chips  $3.50
IMPORTED & DOMESTIC CHEESES with Fresh Fruit Garnish and Crackers  $3.75
CRISP SEASONAL VEGETABLE CRUDITE WITH DIPS  $3.50
MIDDLE EASTERN ARRANGEMENT with Hummos, Tabbouleh, Grape Leaves, Kalamata Olives & Seasoned Pita Crisps  $4.75
A MEDLEY OF SWEET AND SPICY NUTS WITH DRIED CRANBERRIES  $3.50
BAKED BRIE EN CROUTE with Fresh Fruit Garnish, Crackers (15-20 servings)  $60.00
MINIATURE LAVASH SPIRALS (3 pieces per roll) Featuring Smoked Turkey, Roast Beef, Virginia Ham, Hummos & Vegetable  $7.80
SAUCISSON EN CROUTE with Fancy Mustard  $4.50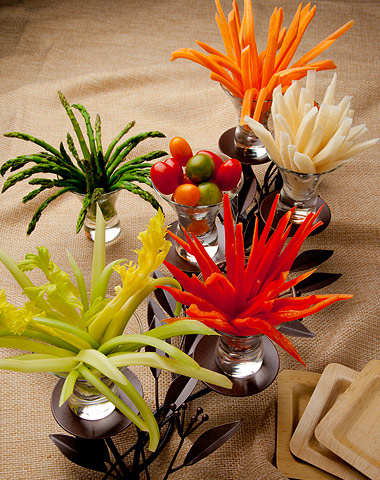 ---
VIA LAGO BUFFET MENU SUGGESTIONS
Entrees may be picked up hot or ready to reheat.
Prices are per person unless indicated otherwise.
*These items are cooked to order and/or may be served raw or under-cooked. Consuming raw or under-cooked meat, fish, poultry, or eggs may increase your risk of food borne illness. Before placing your order please inform your server if a person in your party has a food allergy. Prices subject to change without notice.

Seafood*
*ROMA SALMON WITH ROASTED POTATOES Baked Atlantic Salmon Topped with Sliced Tomato and Fresh Dill $12.95
*CRISPY GARLIC-MISO GLAZED SALMON WITH PINEAPPLE COCONUT RICE North Atlantic Salmon Marinated with Honey, Ginger, Garlic, Miso and Tamari and Roasted to Create a Crisp Caramelized Crust  $12.95 *Gluten Free*
*ORANGE COCONUT SALMON WITH JASMINE RICE $12.95
*THAI SHRIMP STIR-FRY WITH SCALLION RICE $13.95
*SHRIMP SCAMPI ON A BED OF BOW TIE PASTA Tender Jumbo Shrimp Sauteed with Tomatoes, Extra Virgin Olive Oil and White Wine $13.95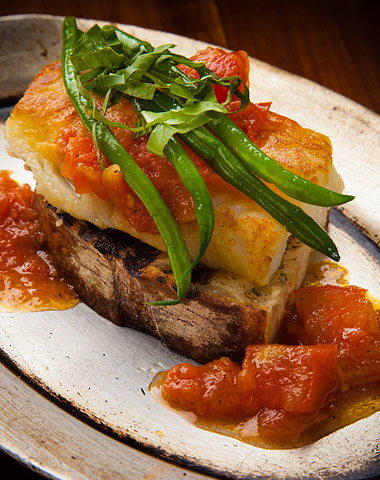 Chicken
CHICKEN PARMESAN WITH PENNE PASTA $11.95
HONEY DIJON CHICKEN WITH ROASTED POTATOES Boneless Chicken Breast Brushed with a Honey Grain-Mustard Glaze $11.95
ASIAN STIR-FRY CHICKEN ON A BED OF WHITE RICE Sliced Sauteed Chicken with a Medley of Asian Vegetables Tossed in a Tangy Ginger Soy Sauce $9.95
CHICKEN PICATTA OVER BABY PASTA SHELLS OR WHITE RICE Sauteed Chicken Breast in a Lemon-Caper and Artichoke Sauce $12.95
CAPRESE CHICKEN PASTA Marinated with Basil & Garlic, the Chicken is Grilled then Topped with Fresh Mozzarella, Sliced Tomatoes, Fresh Basil & a Balsamic Reduction, Served with a Side Penne Pasta with a Fresh Garden Tomato Sauce $11.95
CHICKEN BURRITO WITH MEXICAN RICE Soft Flour Tortilla Filled with Grilled Marinated Chicken, Refried Beans and Cheddarjack Cheese $9.95
TRADITIONAL BAKED ZITI WITH CHICKEN $9.95
ORANGE CHICKEN WITH JASMINE RICE AND GARLICKY GREEN BEANS Tender Chicken Breasts with a Homemade Citrus Glaze with Asian Influences $13.95 *Gluten/Dairy Free*
BLACKENED CHICKEN WITH AVOCADO CREAM AND CILANTRO LIME QUINOA Blackened Plump Chicken Breasts Cooked to Perfection $11.95 *Gluten/Dairy Free*
MAKE YOUR OWN CHICKEN TACOS with Mexican Rice $9.95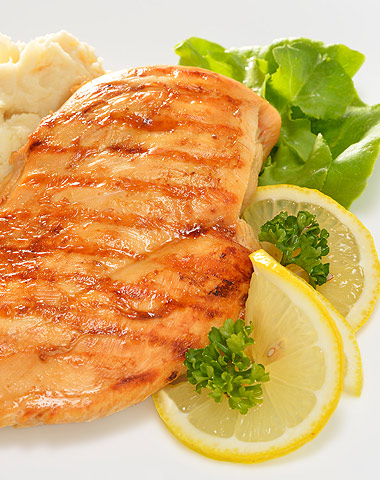 Beef*
*PEPPERCORN STEAK TIPS with Rice Pilaf $12.95
*MAKE-YOUR-OWN BURGER BAR Grilled Beef Burgers with All the Fixings on the Side, with Potato Chips and Pickle Spears (Veggie Burgers also available under Vegetarian Entrees) $10.95
*BEEF BURRITO WITH MEXICAN RICE Soft Flour Tortilla Filled with Grilled Marinated Steak Tips, Refried Beans, and Cheddarjack Cheese $10.95
*MAKE-YOUR-OWN TACOS WITH MEXICAN RICE Seasoned Ground Beef with Chopped Lettuce, Tomatoes, Shredded Cheese, Salsa, Sour Cream, and Taco Shells $10.95
*TRADITIONAL BAKED ZITI WITH BEEF $9.95
MONGOLIAN BEEF WITH SNOW PEAS OVER JASMINE RICE Thinly Sliced Sauteed Strips of Steak Tossed with a Sweet and Spicy Sauce $12.95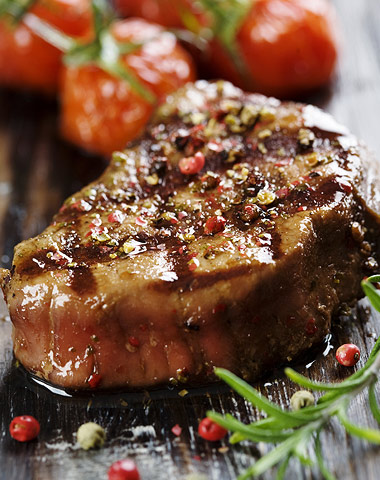 Vegetarian
VEGETARIAN SPICY QUINOA STUFFED AVOCADO Fresh Creamy Avocados Seasoned with Quinoa, Black Beans, Onions, Tomatoes & Peppers (Chicken can be Added for an Additional Charge) Served with Seasoned Sour Cream on the Side $10.95 *Gluten Free*
ASIAN STIR-FRY VEGGIE – A Medley of Asian Vegetables, Tossed in a Tangy Ginger-Soy Sauce, on a Bed of White Rice $8.95
EGGPLANT ROULADE – Lightly Breaded Eggplant Slices, Baked with Spinach and Ricotta Cheese Filling, Topped with a Sweet Red Pepper Tomato Sauce $8.95
MAKE-YOUR-OWN VEGGIE BURGER BAR – Grilled Veggie Burgers with all the Fixings on the Side, with Potato Chips and Pickle Spears $9.95
THREE CHEESE BAKED MACARONI – Marylou's Famous Baked Macaroni and Cheddar, Parmesan, and Asiago Cheeses, Finished with a Cracker Bread Crumb Topping $7.95
TRADITIONAL BAKED ZITI $7.95
TRADITIONAL BAKED ZITI with Garden Vegetables $8.50
SPINACH AND CHEESE RAVIOLI – Homemade Four-Cheese-and-Spinach-Filled Raviolis, Topped with a Garden Tomato Sauce $8.95
VEGETABLE BURRITO – Soft Flour Tortilla filled with Re fried Beans, Peppers, Onions and Cheddar Jack Cheese, Served with Mexican Rice $8.95
MAKE-YOUR-OWN VEGETABLE TACOS – Seasoned Grilled Vegetables with Chopped Lettuce, Tomatoes, Shredded Cheese, Salsa, Sour Cream, and Taco shells, Served with Mexican Rice $8.95
Via's All Time Favorites
CHERRY WOOD GRILLED SALMON WITH APPLE CIDER NAGE  $11.50 pp/pan for 10 $115.00 *Gluten/Dairy Free*

SHALLOT & HERB CRUSTED COD WITH LEMON CREAM SAUCE $12.95 pp/pan for 10 $129.50
WILD MUSHROOM CHICKEN in a Marsala Wine Sauce with Crimini, Shiitake and Button Mushrooms $10.50 pp/ pan for 10 $105.00

CHICKEN, BROCCOLI & ZITI $9.95 pp/pan for 10 $99.50
BBQ PULLED PORK  $10.95 pp/ pan for 10 $109.50 **48 hours notice**
SHEPHERDS PIE Beef and Veggies in Country Gravy with Mashed Potato Crust  $9.50 pp/pan for 10 $99.50
BEEF BOURGUIGNONNE WITH WHIPPED POTATOES Cabernet Simmered with Mushrooms, Carrots & Pearl Onions   $11.50 pp/pan for 10 $115 **72 hours notice**
JAMBALAYA with Shrimp, Chorizio Sausage, Chicken & Rice $9.95 pp/pan for 10 $99.50 *Gluten/Dairy Free*
CANNELLONI Ricotta, Mozzarella, Parmesan with Caramelized Onions & Baby Spinach, Served with a Tomato Mushroom Sauce   $8.95 pp/ pan for 10 $89.50
EGGPLANT PARMESAN
Half Tin  $50.00  Full Tin  $100.00 (Chicken Parmesan also Available Half tin $65/ Full Tin $130)
EGGPLANT ROULADE Lightly Breaded Eggplant Slices, Baked with Spinach & Ricotta Cheese Filling, Topped with Sweet Pepper Tomato Sauce $9.95 pp/ $99.95 a pan
OLD FASHIONED MAC & CHEESE
Half Tin  $50.00  Full Tin  $100.00
POACHED FILET OF SALMON WITH LEMON DILL SOUR CREAM SAUCE $11.50 pp/pan for 10 $115.00 *Gluten Free*/ **24-48 hours notice**

ROULADE OF CHICKEN WITH RICOTTA, SUN DRIED TOMATOES AND BASIL PESTO $11.50 pp/10 person pan $115 *Gluten Free*
SIMMERED TUSCAN CHICKEN STEW WITH POTATOES, WHITE BEANS AND FRESH ROSEMARY $10.95 pp/pan for 10 $109.50 **24-48 hours notice**
GRILLED SEARED TENDERLOIN OF BEEF WITH REDUCED PORT WINE SAUCE $16.95 pp/pan for 10 $169.50 *Gluten Free*/ **48-72 hours notice**

SLOW ROASTED RED WINE BRAISED BONELESS SHORT RIBS *Gluten Free* 96 hr (or more) notice /market price
LASAGNA Three Cheese, Spinach or Meat & Sausage
Half Tin  $50.00  Full Tin  $100.00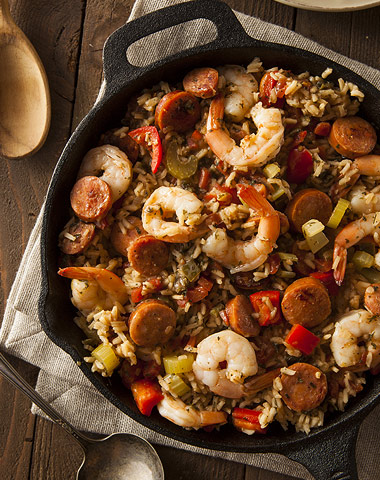 ---
SIDES AND SALADS
Vegetable & Starch Sides
ROASTED SPAGHETTI SQUASH $5.50 per person *Gluten Free/Vegetarian*
CAULIFLOWER RICE $4.95 per person *Gluten Free-Can be Made Vegan*
VEGETARIAN GRILLED VEGETABLE PLATTER $6.95 per person *Gluten Free/Vegan*
GRILLED ASPARAGUS $5.50 per person *Gluten Free/Vegan*
STEAMED GREEN BEANS $4.50 per person *Gluten Free/Vegetarian*
STEAMED VEGETABLES $4.50 per person *Gluten Free/Vegetarian*
SAUTEED CARROTS $4.95 *Gluten Free/Vegetarian*
ROASTED POTATOES $4.50 per person
ROASTED SWEET POTATOES $4.95 per person *Gluten Free/Vegetarian*
ROASTED CAULIFLOWER $3.95 per person *Gluten Free/Vegetarian*
STEAMED BROCCOLI $3.95 per person *Gluten Free/Vegetarian*
ROASTED ACORN SQUASH $4.95 per person *Gluten Free/Vegetarian* Please check for availability
BROWN RICE $4.25 per person *Gluten Free/Vegan*
COUSCOUS $3.95 per person *Vegetarian*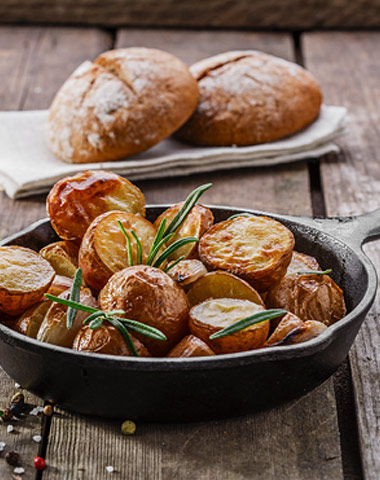 Side & Entree Salads

AUTUMN APPLE SALAD (September/October 2017) Baby Spinach, Cranberries, Pecans, Feta, Apples, and Bacon with our own Maple Dijon Vinaigrette on the Side $5.50 *Gluten Free*
HARVEST SALAD $5.25
TRADITIONAL TOSSED SALAD $3.75
CLASSIC CAESAR SALAD $3.75
GREEK SALAD with Feta Cheese and Olives $3.75
SPINACH SALAD with Mandarin Oranges, Sliced Mushrooms and Toasted Walnuts $3.75
MESCLUN GREEN SALAD with Dried Cranberries, Spicy Pecans and Goat Cheese $4.25
*CHEF-ENTREE SALAD Traditional Tossed with Sliced Turkey, Virginia Ham, and Provolone and Swiss Cheeses $7.95
*COB-ENTREE SALAD Mixed Greens with Roasted Chicken, Hard Boiled Egg, Sliced Avocado, Chopped Tomatoes, Crisp Bacon and Blue Cheese with Olive Oil and Red Wine Vinaigrette $8.95
BERRY CAPRESE SALAD WITH HOMEMADE BALSAMIC VINAIGRETTE Mixed Greens with Mixed Berries, Cherry Tomatoes, Mozzarella, Basil and Pecans with Homemade Balsamic Vinaigrette $4.95
GRILLED PEACH, BLUEBERRY, GOAT CHEESE ARUGULA SALAD WITH POPPY SEED DRESSING Arugula with Fresh Juicy Grilled Peaches, Plump Blueberries, Goat Cheese, Slivered Almonds and Poppy seed dressing $4.95 *Gluten Free*
---
DESSERTS
Some of our Most Popular Desserts
CLASSIC MINI WHOOPIE PIE  $2.50 each
JUMBO COOKIES  $2.25 each
BROWNIES AND BARS (2 pieces)  $2.50 per person
GOURMET COOKIES $2.25 each
ASSORTED DESSERT PLATTER (1 1/2 pieces per person) a Combination of Jumbo Cookies, Gourmet Cookies, Brownies and Bars $3.50 per person
CAKE SLICES – ASSORTED Assortment of the following: Chocolate, Carrot, Lemon Berry Cream Marscapone, and Apple Caramel Harvest
CHOCOLATE DIPPED STRAWBERRIES (2 dozen minimum) $24.00 per dozen
MINI PASTRIES ASSORTMENT (2 dozen minimum/48 hrs notice please) $24.00 per dozen
CUPCAKES (1 dozen minimum) $24.00 per dozen
INDIVIDUAL CHOCOLATE COVERED PRETZELS $4.50 per person
INDIVIDUAL SWEET AND SPICY CHEX MIX SNACKS Assorted Chex Mix, Pretzels, Pecans, Almonds, and Peanuts in a Slightly Sweet and Spicy Coating $3.95 per person