Corporate Catering
Whether you are in need of a last minute lunch for five, a hot dinner for fifty, or hors d'oeuvres for five hundred, we can accommodate all of your needs. Via Lago provides generous portions of fresh innovative fare at reasonable prices, presented tastefully, and delivered on time. This menu presents an overview of our offerings. Other foods and "theme menus" are available, and whenever possible we are happy to create customized menus tailored to your event and tastes.
View our corporate menu or place a corporate online order:
HOURS OF OPERATION
We deliver breakfast, lunch, and dinner Monday – Friday from 7:00 am to 7:00 pm. Other times and weekend deliveries may be arranged with advance notice. Early morning deliveries are available upon request.
781-861-8276
Mon – Fri: 7:00 am – 6:00 pm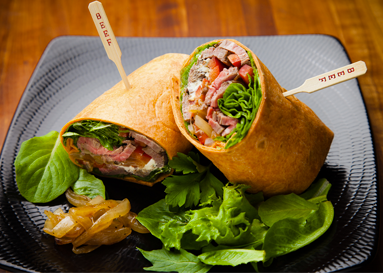 NOTICE
24 hours' notice is appreciated for cold food orders. However, we will always accommodate same day orders to the best of our abilities. 24 – 48 hours' notice is required for hot food order.
HOW TO ORDER
BY PHONE: Call 781-861-8276 and speak to a catering representative.
BY FAX: Fax us your order at 781-860-0552. Please call to confirm after transmission. (Fax order forms are available upon request.)
DELIVERY
$8 to $13 charge for orders within our area and more for orders on Saturdays and for outside our area. $45 minimum order required. (Hey, just order dessert or a little more food!)
PRESENTATION AND SET-UP
Chilled and room temperature food is presented on black plastic ware. Hot food is delivered in disposable pans. Chafing dish set-up is available for $10 per item. At your request, we will gladly set up your order gratis.
PAYMENT TERMS
Corporate charge accounts are welcome. Payment terms are net 30. Custom invoicing is available and can be organized by cost centers or purchase order numbers. Invoices accompany deliveries. Via Lago accepts corporate checks, VISA, MasterCard, and AMEX. Clients will be billed for any irretrievable equipment.
PRICING AND TAXES
Unless otherwise noted, prices are on a per person basis. All costs are subject to applicable Massachusetts sales tax. Prices subject to change, based on market conditions.
CANCELLATIONS & CHANGES
We will always accommodate head count and menu changes to the best of our abilities. We will accept cancellations up to the time your food preparation has begun. The client may be held responsible for unrecoverable costs.
FULL SERVICE EVENTS
Via Lago proudly offers full service catering. Whether you are planning a wedding reception, birthday party, anniversary celebration, or private event, we can arrange for service staff, liquor service, floral arrangements, china, and linens.
View our Full Service Catering section